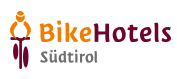 BikeHotels Südtirol is an association of passionate cyclists and mountain-bikers, who make it a matter of heart to provide wonderful bike holidays. The 39 BikeHotels in South Tyrol and the 9 bike schools offer
competent tour advice
and
excellent guiding,
unforgettable bike adventures on the most beautiful trails, mountain passes, valley cycling paths in South Tyrol, and the sunny North of Italy await you.
The BikeHotels are looking forward to welcoming you!


The Quality Guarantee of the BikeHotels Südtirol
Here you know what to expect!
Bike vacation does not just any bike vacation. Cyclists will know this as soon as they ask for tour proposals in a self-proclaimed "bike-friendly" hotel or when the bike garage looks like a junk closet. This cannot happen in the
BikeHotels Südtirol
!
5 good reasons for booking in a BikeHotel Südtirol member hotel:
The hosts of the BikeHotels Südtirol are all ambitious cyclists themselves. Many of them have a bike guide education and accompany you on the tours.
Upon arrival you will soon notice that here you're staying in a hotel that shares your passion: the newest bike magazines and bike information are visible and without asking you will get to know everything about where you can store your bike, about the biker regulars' table, and about bike tours.
Whether you prefer to cycle on your own or prefer guided tours: in the BikeHotels the hosts will organise the bike holidays based on your wishes and are always pleased to give tips on where to enjoy the best food!
The bike garage of the BikeHotels Südtirol are perfectly equipped, some even with alarm and video-surveillance. You can also find tools to undertake small repair works. Furthermore, the hotels cooperate with mechanics and shops in close proximity.
Last but not least, in the BikeHotels Südtirol you can look forward to excellent cuisine with mainly regional products, which after all provides the basis for a wonderful bike vacation in South Tyrol.
Overview of all quality characteristics of the BikeHotels:
Location: Your BikeHotel is located in close proximity to a cycling network.
Equipment: The equipment of the hotel meets all requirements of cyclists, from a washing spot for bikes to drying facilities for bike clothing, and a perfectly equipped service room.
Safety: A lockable bike room is at your disposal. The bike rooms mostly feature video-surveillance and are only accessible to cyclists. In some hotels you can even bring your bike into the bedroom.
Info corner: In the Info corner for bikers you can stroll through the newest bike magazines or plan the tour for the next day.
Bike shop: Your host cooperates with a bike shop in the vicinity. Hence, repair services within 24 hours are guaranteed, and you can also purchase any bike equipment you require.
Culinary delights: The breakfast buffet includes at least 10 regional products. In the afternoon, light dishes for bikers are offered.
Laundry service: The hotel offers a laundry service for dirty bike clothing.
Rental material: High-quality rental bikes are at your disposal and are organised for the next day upon request.
Furthermore, GPS equipment, helmets, drinking bottles are offered, and the mountain-bike/freeride specialists also offer protectors for rental.
Care & Guiding
Competent hosts & Bike Schools
Bike tours are guided by certified bike guides or a cooperating Bike School.
The hosts are certified guide bikes and personally guide up to 2 bike tours per week. Bike tours start right at the hotel or in the immediate surroundings.
Tour information
Weekly information evenings are organised, and you receive detailed, written descriptions of the guided tours.
Tour maps & GPS
A vast selection of professional tour maps with the respective GPS data are at your disposal. Your host will help you with the GPS upload. In many hotels you can upload GPS data from a special computer or from the hotel website.
Tour snacks
Your host will provide energy bars for your tours and upon request you can also order lunch packages.
Return pick-up service
Your host offers a pick-up service to return to the hotel.
Shuttle service
The mountain-bike/freeride specialists also offer a shuttle service.
Quality checks

Quality checks take place in all BikeHotels Südtirol on a
regular basis
. All the facilities, offers and services are strenuously checked.